Fire Alarm Systems
What We Do
/
Life Safety Systems
/
Fire Alarm
Fire Alarm System Design, Installation, Repair & Maintenance
We at Bass United Fire & Security, Inc. are a company that has provided service for fire alarm and life safety solutions in South Florida and the Caribbean for over 36 years. Our knowledge of life safety systems is unparalleled when paired with the expertise of our NICET certified and factory trained technicians. In addition to being NICET certified and FASA/BASA certified, we are also a Gamewell-FCI GSA approved contractor.
We carry a full line of fire alarm panels and parts such as Gamewell-FCI, Firelite, Silent Knight, Mircom, Notifier, Faraday, Harrington, CWSI, Siemens, Potter Signal, Gentex, Simplex, Cooper Wheelock, EST and many more. We continually train our technicians in the latest product and software upgrades per factory guidelines.
Bass-United is proud to install, test and service the following manufacturers including many more...
Mircom
Faraday Fire Alarms
Harrington Signal, Inc.
Notifier by Honeywell
Siemens
Gentex Corporation
Tyco Simplex Grinnell
System Sensor
Cooper Notification
Commercial Wireless Systems International
We design, install, test & inspect, service and monitor a large range of life safety systems to protect each type of facility from two zone panels to large network systems. Let us custom design a system which may include carbon monoxide, smoke detection, heat detection, high sensitivity, specialty application detection, video smoke detection, air sampling, linear heat and many more.
Central station monitoring when paired with a fire alarm system provides around-the-clock safety and reassurance. We provide industry standard central station services along with enhanced email, text and IP capabilities. Our monitoring station can dispatch a fire department at a moment's notice and simultaneously send an email and or text to alert you.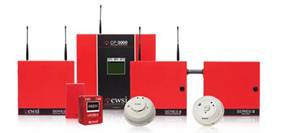 The CP 3000 is an intelligent Fire Alarm Control Panel suitable for any type occupancy regardless of size. The versatility, network integration, and scalability make it ideal for virtually any application.
The CP 3000 will support up to 1024 addressable devices and repeaters while providing true network operation and communication. Network operation includes wireless command signals to repeaters for activation of control functions such as appliance circuits, elevator recall, HVAC control and more. The 3000 allows for the reporting of up to four separate alarm types and provides for event memory recall of alarm, supervisory and all control functions.
The CP 3000 incorporates dual transceiver technology and utilizes FHSS (Frequency Hopping Spread Spectrum) signaling as well as reception protocols to assure the most secure and reliable fire alarm network available. The System 3000 meets all National Code Requirements and is UL Listed for Local, Remote Station, Central Station, Auxiliary Service, Manual, Waterflow and Sprinkler Supervisory.